Sky/WI knitted billboard - www.guardian.co.uk
For info in original website:
http://www.guardian.co.uk/media/2008/jun/03/bskyb.television
Women's Institute search for an icon: Sky TV unveils woolly mammoth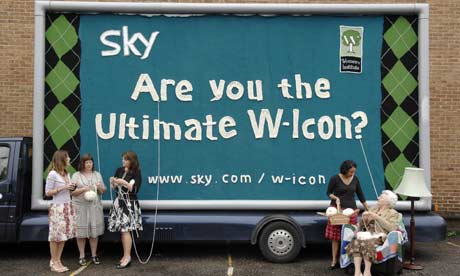 Paper and paste, vinyl and even LCD screens are more typical materials, but Sky TV has made its latest billboard out of wool - knitted by members of the Women's Institute no less.
The unusual billboard, measuring 6m by 3m, was unveiled in Islington today at the launch of a campaign to find a WI member to become a presenter on Sky Learning.
Only the 205,000 members of the WI are eligible for the competition and the winner, dubbed a "W-Icon", will be chosen by a panel of celebrity judges, the board of the National Federation of Women's Institutes, a Sky representative, and a public vote.
The giant knitted billboard - believed to be a world first - is made from 80km of wool, enough to stretch from London to Brighton, and took more than 250 hours to create.
It is now on its way to Liverpool on the back of a truck for the Women's Institute annual general meeting tomorrow.
The campaign, designed by ad agency Cake, is to promote the search for a presenter to become the face of the WI and host a "How To" series of guides to modern life, to be hosted online and broadcast on Sky TV.
Sky said the subjects would range from how to understand social networking, greener gardening, and sexual health for older women, as well as using the more traditional skills WI members are famous for.
Lucy Milton, Sky's head of arts and sponsorship, said: "By combining Sky Learning with the WI's heritage in keeping life-long skills alive in households all over the country, we hope that both the search for the W-Icon and the 'How To' guides will be genuinely useful and inspirational."